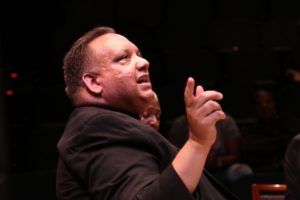 Reverend Maurice J. Nutt, C.Ss.R., D.Min.
Father Maurice J. Nutt, C.Ss.R. has been ordained a Roman Catholic priest in the Redemptorist Congregation for 34 years. Father Nutt is a priest in good standing with the Redemptorists – Denver Province enjoying faculties from the Archdiocese of New Orleans. He earned a doctorate in preaching from Aquinas Institute of Theology in St. Louis (the first African American to receive a Catholic doctorate in preaching), a Master of Theology degree from Xavier University of Louisiana in New Orleans, Louisiana, a Master of Divinity degree from Catholic Theological Union in Chicago, Illinois, and a Bachelor of Arts degree in Philosophy with a minor in Communication from Holy Redeemer College in Waterford, Wisconsin. In June of 2001, he was named a Danforth Fellow and completed the Leadership Program for Senior Executives in State and Local Government from the John F. Kennedy School of Government at Harvard University, in Cambridge, Massachusetts. In October 2020 he completed his certification in Spiritual Direction from the Hesychia School of Spiritual Direction in Tucson, Arizona.
Father Nutt has taught as an adjunct professor at St. Louis University, Hampton University (online instructor), Xavier University of Louisiana, and Catholic Theological Union. Courses taught: The Black Religious Experience, Introduction to Christian Theology, Pentecostalism, Preaching and Evangelization, Black Preaching, Introduction to Liturgical Preaching, and Advanced Preaching.
Additionally, Father Nutt served as Pastor of St. Alphonsus Liguori "Rock" Catholic Church (1993-2002) in St. Louis, Missouri and Holy Names of Jesus and Mary Catholic Church (2005-2011) in Memphis, Tennessee. From 2011-2014 he was a full-time preaching missionary as a member of the Redemptorist Mission Preaching Team based in Chicago, IL. He was served as a director of the Institute for Black Catholic Studies at Xavier University of Louisiana in New Orleans from 2014-2017. He is a past convener of the Black Catholic Theological Symposium, a national interdisciplinary association of Black Catholic scholars from the United States, Africa, and the Caribbean. He is a consultant of the cause for canonization of Sister Thea Bowman for the Diocese of Jackson. In June 2020 he was appointed as an adjunct professor of preaching and evangelization serving as a doctoral thesis advisor in the doctor of ministry of preaching program at Aquinas Institute of Theology in St. Louis, MO. He is a consultant for the Black Preaching track in the Academy for the Mastery of Preaching to Underserved US Catholic Communities at Aquinas Institute of Theology.
In 2022, Father Nutt was elected as a Consultor on the Extraordinary Provincial Council of the Redemptorists – Denver Province. Father Nutt is an award-winning author of, Thea Bowman: Faithful and Free published by Liturgical Press (2019) and won awards from the Association of Catholic Publishers and the Catholic Press Association. In November 2019 he was named to the inaugural cohort as an "Delaplane Preaching Scholar" of Aquinas Institute of Theology in St. Louis. His latest book titled Down Deep in My Soul: An African American Catholic Theology of Preaching was published in 2023 by Orbis Books. He is a co-editor of the upcoming book, Preaching Racial Justice (Orbis Books). He has also published many articles and book chapters about preaching, African American spirituality and culture,
pastoral theology, and the intersection of evangelization and social justice. He is a member of the Academy of Homiletics (AOH), the African American Caucus of the AOH, the Catholic Association of Teachers of Homiletics, the National Black Catholic Clergy Caucus, Spiritual Directors International, and the Spiritual Directors of Color Network. In February 2021, he founded Copiosa Care: A Redemptorist Spiritual Direction Ministry. He was inducted into the 2022 Class of the prestigious Dr. Martin Luther King, Jr. Board of Preachers at Morehouse College in Atlanta, Georgia. Father Maurice is a proud life-member of Alpha Phi Alpha Fraternity, Inc. He is the local superior of the Redemptorist community in New Orleans.
Follow Father Maurice on Twitter @MJNutt1906
About Father Maurice's Missions